Stress can affect you in strange ways. You might be stressed out because your workload is too chaotic. One of the many fallouts of stress is the occurrence of pimples. Once you figure out how stress can cause pimples, it is easier to keep it at bay.
Major causes of pimples (पिंपल के कारण)
Blood vessels get dilated as your stress levels increase. This results in rosacea. It is a skin condition where your face appears flushed due to inflammation of the underlying blood vessels. This looks like you have pimples.
Hectic lifestyle and lack of sleep
Project deadlines and continuous work calls cause stress and lack of sleep. Lack of sleep triggers the release of cortisol. This leads to enhanced secretion of sebum which results in pimples. It makes you resistant to insulin which causes your blood sugar levels to shoot up. High blood sugar levels can be one of the major reasons for pimples. Work stress can cause excessive hormone secretion which leads to sweating and inflammation. This is also one of the major causes for pimples.
If you commute daily then it can expose the skin to a great deal of pollution. This, in turn, can cause dirt and unwanted materials to get deposited on your skin. These impurities block the skin pores. This makes it difficult for the skin to expel toxins from the body. A build-up of these impurities leads to pimples and acne scars.
Your parents probably scold you to stay off junk food. Well, junk food does not cause pimples. Dairy products and excessively sugary foods trigger pimples. When you are stressed out, you tend to gorge on chocolate which is a known stress reliever. And you may consume large amounts of sugar too. This can lead to acne.
Stress is a major reason of pimples. The immediate cause, nevertheless, is a build-up of sebum that can block your skin pores. It can lead to itchy skin. When you scrape the affected area, you add to the build-up and introduce bacteria into the site. This causes further itching. The cycle continues. The more you pick at your skin, the worse the skin problem becomes.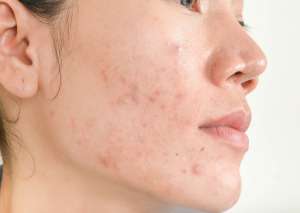 How to prevent pimples?
Decrease your stress levels
This one may seem obvious. But one way to reduce pimples is to decrease your stress levels. Take some time to decompress and relax. You can do yoga, exercise, meditation, painting, deep breathing, etc. You can do whatever you can do to help keep mind at ease. Incorporating regular self-care can be a game-changer when it come to clear skin and mental health.
Maintain your skincare routine
Don't skip your basic skincare needs. When you're feeling stressed, it's easy to forgo your typical skincare routine. But you have to take care of your skin. Remember to wash your face twice a day, use a gentle toner, exfoliate regularly and apply sunscreen daily. Incorporate a face mask into your skincare routine one to two times per week as an excuse to unwind and relax for a few minutes.
Lack of sleep can create many reactions within the body, including increased inflammation and production of stress hormones, both of which can destabilize your immune health ad contribute to skin problems. Without regular restorative sleep, your body might not feel adequately rested and could jumpstart a cortisol surge, putting you at the risk for pimples.
Homeopathy treatment for pimples (पिंपल्स  का होम्योपैथिक  उपचार)
Pimples leave behind acne marks which can affect your self-confidence and work. If you worry about the skin problem then the particular skin condition may be aggravated. Homeopathic treatment focuses on the underlying skin condition. Homeopathic treatment for pimples(मुंहासे के उपचार) is carefully selected after a detailed case analysis which consists of your medical history, physical and mental makeup among various other relevant factors. Homeopathy treats the skin problem and takes care of other factors like Polycystic Ovary Syndrome (PCOS) (पोल्य्सिस्टिक ओवेरियन सिंड्रोम). It is a common reason of acne in women. Furthermore, scars are prevented with homeopathic remedies (होम्योपैथिक उपचार).
At OHO Homeopathy, we have treated over 1 lakh cases. Does your skin suffer from breakouts regularly? You should book an online appointment with us. We can treat your skin condition without any side effects and provide long-term relief.