Pimples (पिंपल)can be irksome and annoying. Although it might feel good to pop a pimple, the experts advise against it. Popping a pimple can cause infection and scarring. It might make the pimple more obvious and reddened. It delays the natural healing process. It is advised to leave pimples alone and let them heal on their own.
Proper steps to pop a white pimple (व्हाइटहेड्स)
But if you cannot wait, here is the proper way to pop a white pimple:
Step 1: Do not pop pimples that do not have an obvious white centre
There should be a very discrete central white collection of pus that looks like it is about to explode.
Step 2: Get your acne under control
Acne treatments (मुँहासो का उपचार) take eight weeks to work, because acne is an eight-week cycle. So, the time to start treating existing pimples (पिंपल)is now. Get on a personalized skin care routine as soon as you can that treats your acne type. That way, you won't have to be in this situation in the future.
Step 3: Wash your hands
Popping a pimple with dirty hands can lead to an infection that can cause acne scars (मुँहासो के निशान). Use antibacterial soap which is used to clean skin and hands before popping a pimple.
Step 4: Wash your face with a cleanser
Use a cleanser to help shed dead skin cells from the surface, which can otherwise clog skin pores, and reduce redness and inflammation. You can use this cleanser in the shower.
Step 5: Take a hot shower
If you have a pimple with pus in the centre, take a hot, steamy shower and see if it will pop on its own. Stay in the steam for at least five minutes. The pimples (पिंपल)will usually pop on their own in the hot shower, and then you can proceed to step 8.
Step 6: Apply gentle pressure on each side of the pimple
Do not use your fingernails. Wrap a tissue around your fingers to protect your skin from puncturing from your nails. Cover the tissue with toner to kill any bacteria. Then, apply gentle pressure at the edge of the pimple.
Step 7: Give up and try again later
If the pimple does not pop after two gentle tries, stop and wait six hours. Do not ever try to pop a pimple that does not have the central collection of pus. You will just make the pimple worse and drive the pus deeper into the skin, which will likely cause a cyst. Do not dig your fingernails into your skin to scratch off the pimple. The top layer of skin makes it heal faster, so you want to leave that top skin on the pimple.
Step 8: Apply an antibacterial or an antibiotic
These can help to eliminate acne-causing bacteria within the hair follicle (pore). An antibacterial toner would be the best.
Step 9: Do not pick the scabs
Scabs that form on the skin after an acne lesion are part of the skin's healing process. Leave them be! Picking at scabs will increase the chances of scarring and will make the pimple heal more slowly.
Step 10: Cover the area with a sunscreen lotion
Sun exposure can cause pigmentation problems after acne. So, always wear sunscreen lotion. Or even better, you can use an SPF-containing concealer to protect against UV damage and conceal the pimple while it heals.
Even though you can pop some non-inflamed blackheads (ब्लैकहेड्स)and whiteheads(वाइटहेड्स), they should never try to pop or extract inflamed acne. This is because inflamed acne is deeper. It is more likely to scar and get infected if a person tries to squeeze it. Popping a pimple (पिंपल) can lead to acne scars(मुँहासो के निशान) which become difficult to treat.
Forms of inflamed acne include –
Papules
Nodules
Pustules
Cysts
A person with these types of blemishes should consult a doctor as he/she can give the best guidance.
If your pimple contains infected pus, popping a pimple can spread bacteria into other pores and hair follicles. This can create a more extensive acne outbreak. You should not pop the pimple as it can hinder the natural healing process. If you try to do it forcefully, you are just pushing the pimple further underneath the skin layer. This can clog your pores and make acne worse or trigger inflammation. Therefore, it is always recommended not to pop pimples because it will only worsen the situation.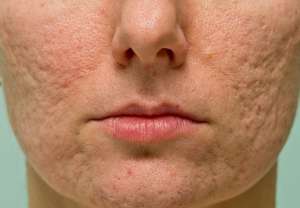 Why homeopathy?
Homeopathy treatment for pimples (पिंपल का होम्योपैथिक उपचार) is one of the best and most effective treatments to solve the primary reasons. Homeopathy treatment (होम्योपैथिक उपचार) heals you from within. After considering the medical history, nature and temperament of the patient, among other relevant factors, homeopathy doctors (होम्योपैथिक डॉक्टर)prescribe homeopathy medicines(होम्योपैथिक दवा). The best part about homeopathy is that it provides long-lasting results. Also, there are no harmful side-effects.
Why OHO Homeopathy?
At OHO Homeopathy, we ensure that each patient gets tailored homeopathy treatment (होम्योपैथिक उपचार)to deal with pimples (पिंपल)in a much more effective way. Our homeopathy doctors (होम्योपैथिक डॉक्टर) find the fundamental cause of the skin problems (त्वचा रोग)and then prescribe the medicines accordingly to get the best effective results from the treatment.
Book an online appointment to get treated by the best homeopathy doctor(होम्योपैथिक डॉक्टर) or you can just visit your nearby homeopathy clinic to get more information.