Most men experience excessive hair loss (बालों का झड़ना) in the monsoon because of the high humidity levels. The monsoons bring several hair and scalp problems like dandruff (डैंड्रफ), itchy scalp, frizzy and dry hair. Therefore, it is essential to take extra care of your scalp and hair during the rainy season. Keep reading to learn some of the ways that the rain can cause hair damage.
Fungal infections (फंगल इन्फेक्शन)
The moisture in the hair, which remains wet after exposure to rain, likely invites certain fungal hair infections. These infections can lead to hair loss (बालों का झड़ना).
The high humidity levels during the rainy season can make you more prone to dandruff. A fungus called Malassezia is responsible for scalp itchiness.
The rains can strip your hair of its natural moisture which can lead to dull and frizzy hair and ultimately to hair loss.
The dirt found in rainwater combined with constant sweating invites the germs, leading to hair loss during raining time.
Rainwater can make your hair rougher or thinner or even mess with your hair structure. This leads to hair loss. Therefore, it is always advised to opt for mild shampoos with natural ingredients. Chemical and other pollutants present in the rainwater can cause scalp infections. These infections can damage the hair roots, leading to hair loss.
Self-help tips:
This is crucial to hair care, especially during the rainy season. Rainwater is more acidic than other water because it absorbs impurities from its environment. Rainwater can cause hair to become dry and brittle if it comes into contact with it. Rainwater can alter the pH balance in your scalp. Rainwater can cause bacteria and fungi to breed. Your hair follicles might become more sensitive to rainwater, and your roots might swell, leading to hair fall. Use a microfiber towel to absorb the water quickly from your hair and scalp. This will help reduce hair fall.
Do not comb your hair wet as it will become weaker. Choose a separate, clean and wide-toothed comb. To prevent dandruff or other fungal infections, do not share your combs.
Maintain healthy diet pattern
Your hair health is dependent on your diet. Your hair health is directly affected by the diet you choose. High-protein foods like eggs, nuts, whole grains, and dairy products can give your hair shine. Other foods that are good for hair regrowth include sweet potatoes, spinach, berries and nuts.
Other haircare tips are as follows:
Never tie the wet hair (if you have long hair), let it dry completely
Oil your hair once a week
Do not use hair dryer
Drink adequate amount of water (at least 8 glasses a day)
If hair problem persists, go to a homeopathy doctor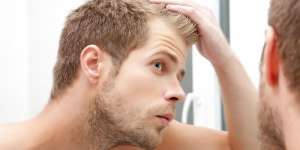 Why homeopathy?
Homeopathic treatment is one of the best and most effective treatments for hair loss during the rainy season as it provides long-lasting relief. Hair loss treatment in homeopathy prevents hair loss, improves scalp health and stimulates hair regrowth. Homeopathy treatment for hair loss uses natural remedies that are free from any harmful side-effects. Homeopathy for hair loss is the natural treatment that treats the root cause of the hair problems and is suitable for all age groups.
Why OHO Homeopathy?
At OHO Homeopathy, we make sure that our patients get the best homeopathy treatment for hair loss during the rainy season. Our team of homeopathy doctors prescribes tailored hair loss treatment (हेयर लॉस उपचार)plans by considering the medical history, temperament and nature, among other relevant factors. They find the root reason of hair loss(बाल झड़ने के कारण) and then treat the hair fall problems (बाल झड़ने की समस्या)accordingly.
Book an online appointment with us to get treated by the best homeopathy doctors(होम्योपैथिक डॉक्टर).